Archive for January, 2012
Tonite is the nite! Meg and I are headed downtown to Old Rock House for The Riverfront Times 2012 St. Louis Web Awards!
We're stopping by The Bridge Tap House first for some dinner and then off for what looks to be an uber-exciting evening with the hippest internet cats in the Gateway City.  I'm feeling a lot less nervous than I did yesterday, mostly because I don't think I've got a good shot at winning.  I had a chance to read the other nominees in the Best Personal Blog category last nite and I was quite impressed.  I feel truly honored to be a finalist.  I think I'm a long shot, but then again so did the Cardinals last August.  Anything is possible, so I guess what I'm really saying is wish me luck my internet friends!
Ciao,
The Captain
So it's less than 24 hours till the Web Awards tomorrow nite, and my excitement is reaching a fever pitch.  I need to take my mind off of tomorrow nite, so why not distract with another edition of Ach Ja and Nicht Nicht.  As always, here's my man Bruno if you're not familiar with the reference.
Ach Ja and Nicht Nicht:  Pre-Awards Edition
AWOLNATION – Ach Ja
My kid brother Paul is into this L.A. Band AWOLNATION that is played frequently on 105.7 The Point.  I wasn't super familiar with the band, but I agreed to go with him to Pops over on the East Side for their show this past Saturday nite.  Not only would this be my first concert with my 18 year old brother, this would be my first time at a bar with him, and his first trip ever to East St. Louis.
I wasn't expecting a whole lot from the band, but I was pleasantly surprised.  The band had some decent chops and great stage presence.
It was a fun nite, especially since my brother was sober driver for the evening.  He's graduating from High School soon, so I guess I better start taking him to more shows!
Non-Existent Tickets – Nicht Nicht
I had mixed feelings about the recently announced Jane's Addiction show at the Pageant next month.  The band is touring on their 2011 album they made after the departure of founding member Eric Avery.  The album is decent, and Jane's Addiction is still one of my favorite bands, so I decided to pony up $55 so I could watch them from the comfort of The Pageant's balcony.  I logged onto the tickets website at exactly 5pm on Friday and discovered that the balcony was already sold out.  It's the first minute tickets are available to the public, and you don't have any reserved seating?  What kind of shit is that?!?  How can they advertise reserved seating if none of the tickets are available to the general public?  It was the same crap in November when I paid $65 a ticket to sit in the nosebleed seats at Scottrade for Radiohead.  So I've decided to skip the Jane's Addiction show in protest.  Besides, is there any way it could top their NIN|JA show in Tampa in 2009?
Listening Parties – Ach Ja
My big social plan for 2012 is Listening Parties, i.e. once a month I'm convening my friends to discuss music on a selected topic.  It's a loose concept that requires just a little effort and reaps maximum good times.  We had the first party at my place on the Sunday nite before MLK Day, and it was a smashing success.  In keeping with the New Year feeling January's theme was favorite recent music, with one caveat.
Captain Mike and Eric both brought a disc worth of newish tunes, and I handed out VIP only copies of Modern Rock B-Sides: 2007-2011.  I'd say it was a great success.  I have a second Listening Party planned for February 11th, with a theme of favorite love songs.  I'm predicting another winner.
CVS – Nicht Nicht
When it comes to pharmacies, I've always been a loyal Walgreens customer.  That store has everthing!  So I was a little perturbed when CVS Pharmacies started popping up in St. Louis a couple of years ago.  Now there are a few being constructed near my neighborhood and I'm ready to protest.  I don't have a problem with CVS giving Walgreens some competition, far from it.  I have a problem with CVS because all of their stores are carpeted.  Why the hell would they put carpeting in a public place where sick people regularly shop?  I checked out the one closest to my office, and sure enough there is carpeting in the vomiting remedies aisle.  That seems like an obviously terrible idea to me.  Walgreens has vinyl tiling in all its store for a reason!  I'm ready to start protesting at the CVS construction site by my house until they agree not to install carpeting.  Who's with me?!
Black Russians – Ach Ja
Back in college I drank my fair share of White Russians, mostly due to The Big Lebowski.  But eventually I had to give them up because of all the milk and/or cream.  Drinking half a quart of half-n-half with alcohol leads to vomiting, and that can ruin a carpet.  I tried removing the cream and drinking Black Russians, but I never really enjoyed the taste.  Recently I was mulling what to do with the last bit of a bottle of Pinnacle Whipped Cream Vodka when it occurred to me I should try it in a Black Russian.  Jackpot!
It's so easy and tasty!  All I did was mix equal parts Whipped Cream Vodka and Kahlua in a shaker with ice and shook until blended.  Then I topped it off with just a dash of Baileys and presto – Black Russian.
It goes perfect in the Kahula coffee mugs I got for X-Mas.  And just like that I have a new favorite drink for 2012.
Sealant On My House – Nicht Nicht
So the sealant around the piping for my HVAC failed, and some water seeped into the drywall in my basement.  That sucks bigtime.  Luckily my house is still under warranty for just a bit longer and the warranty company sent some gentlemen out to fix the problem.  In the meantime there is a giant hole in the wall while the drywall has a chance to dry out, and there are plastic tarps hanging all over the basement.  So my basement look like a Dexter kill room until Wednesday.  Home ownership!
My New Look Office – Ach Ja
Since I know I'll be in the same office at work for the foreseeable future, I've been slowly trying to decorate.  I got a big boost this X-Mas with a mini-fridge from my father-in-law and a panoramic picture of the first pitch at the new Busch Stadium from my father.
Looking legit.
Yelling At Teenagers – Nicht Nicht
When my brother dropped me off after the AWOLNATION show around midnite I noticed that the neighbor kids were having another party.  It's mostly harmless save the occasional beer can on the lawn.  But this time I saw that two of their friends were noticeably taking a piss on the front of the house.  What gives? First off, why would you piss on your friend's house and not his neighbors?  Second, why not go to the side or back of the house?  Lazy fucking kids nowadays.  I yelled down at them, and they shot back a bunch of attitude back at me.  Now I have to write the homeowner and bitch about these shitty kids pissing on houses.  I don't wanna be the old man griping at the kids, but come on man! Have a little common sense!
Sweetie Pies – Ach Ja
For those unfamiliar, Sweetie Pies is a local soul food restaurant that serves wonderfully heavy food. I've been to the new location in The Grove a few times and I left stuffed and happy.  I already enjoyed Sweetie Pies before I started watching my new favorite reality show, Welcome To Sweetie Pies.
Now I love it!  The show is supposed to focus on the trials of the restaurant's owner, Miss Robbie, as she tries to expand her business.  But to me, the show is more an entertaining look at all of the goofy things I love about St. Louis.  The show is currently filming its second season right now, and Meg and I are planning on dining there again very soon, mostly because we want to meet Lil' Charles, the show's young, slacker employee.
And we're really hoping to meet J.R., the show's Eddie Haskell.  Hopefully I'll have some pictures to post here in the near future.
Cardinals Exodus – Nicht Nicht
The worst thing about the hometown team winning a championship, aside from the corresponding rise in ticket prices, is the mass exodus of players the following year.  Obviously LaRussa retiring and Pujols leaving were both a big deal, but now most of the other veterans that could leave have decided to jump ship.  Nick Punto will now play shortstop for the Red Sox, Octavio Dotel and Gerald Laird both signed with Detroit.  And worst of all was the news that pitching coach Dave Duncan won't be back either.  I know Duncan has a good reason for leaving, but it still sucks just the same.  I liked the 2011 Cardinals as a team, and the 2012 team will now look considerably different.  I want my Cardinals back dammit!
The Riverfront Time 2012 St. Louis Web Awards – ACH JA!!!
After all that I still can't quell my excitement!   So I guess the only productive thing I can do is hit the sack early and try and get some rest tonite, because I'm going to need it tomorrow.  Sweet dreams internet!
Ciao,
The Captain
I had originally planned to post my review of Modern Rock 2011 on Tuesdays this month.  But I spent most of this past Tuesday catching up after a long weekend , and I'll be quite busy next Tuesday with the Riverfront Times St. Louis Web Awards party.  So I've decided to spend my weekend finishing the discussion of Modern Rock 2011.  Here's the first part from earlier this month and here's the complete track listing for Disc 1.
Today I'll be discussing Side 2 of Disc 1, which is followed by both side of  Disc 2 from early this weekend.   2011 turned out to be a great year for Modern Rock, so please feel free write in with your thoughts.  Now let's get to rocking!
12.  Second Chance – Peter Bjorn & John
Selecting this song was a real change of thought for me, and it had nothing to do with the music.  This Swedish trio is at it's best when it goes for pop and Second Chances is pure pop gold, which is the problem.  It's so catchy that it became the official Bud Light Lime anthem for 2011.  In the past I've not included tracks on Modern Rock based on their association with an advertisement.  I didn't include 2008 Bud Light Lime anthem Lights Out by Santigold for that very reason.  But this year I decided Bud Light Lime be damned, I'm going with the song.  Only music elitists like me remember that shit after a few years anyways.
13.  She's Enough – Atmosphere
Saw this video for this track on MTV2's Subterranean and fell in love with the song.  Verses about impregnating your woman and stealing stuff for her is about as romantic as it gets here on Modern Rock, so enjoy it while it lasts.
14.  I'm A Goner – Converse All-Stars
As a fan of Converse in general, I think their 1 Song 3 Artists campaign is a wonderful idea.  This year they finally answered the question "What would it sound like if you locked Matt & Kim, Andrew WK, and Soulja Boy in a room with sound equipment?"  The result is a bizarrely charming ode to being an underdog.  Back in October I had a chance to grab a beer for a Cardinals-Brewers playoff game with my old jetsetting buddy @williampepple who spent half of 2011 as the road manager for Matt & Kim.  He said that the two had a blast recording this song, and enjoyed several other things that day that I will not mention here.
15.  Civilization – Justice
When it comes to French electronic duos no one will probably be more well known than Daft Punk, and for good reason.  But Daft Punk had been missing in action for years before they released an album in 2010.  That album was a decent soundtrack for the godawful reboot of Disney's Tron.   In the band's absence, Justice has really stepped up to fill the void.  They threw down in 2011 with this marvelous single off of their impressive second record, Audio, Video, Disco.  This song marks the point on Disc 1 where I switch from rocking to dancing.  Let's go!
16.  Midnight City – M83
While I could certainly label Side 2 of Disc 1 "The Dance Party," I decided that a better label would be "Sax & Violence."  Midnight City is the perfect example of the tough lyrics and 80's dance beats with an extra helping of saxophone that became a mini-trend this year.  Music elitist hub Pitchfork picked this track as their Song Of The Year.  And while I freely admit this is dance music for hipsters, I still friggin' loved it.  Un-ironically!
17.  Sad Song – The Cars
Unexpected band reunions have become a staple of my Modern Rock discs over the past decade and the most unexpected reunion of 2011 was definitely The Cars.  Ric Ocasek must've finally gotten tired of today's bands ripping off his hand-claps-and-synthesizers sound enough to get The Cars together for a victory lap 25 years later.  As a long time fan I was amazed at how the whole album sounds like it could fit in anywhere in The Cars' impressive catalog from the 80s.  Great timing for a great band, and here's hoping they stick together for one more album.
18.  Cement Slippers – Dengue Fever
The Sax & Violence are back with a vengeance in this odd little track from Los Angeles' Dengue Fever.  I love the goofball lyrics and hooky chorus, but the trippy saxophone solo steals the show.  To say that they are my favorite Cambodian Psychedelic Pop Band is an understatement.
19.  Rill Rill – Sleigh Bells
Sleigh Bells are a band that I rejected as too kitschy when they released their debut album back in 2010.  Turns out I didn't give them a good shot.  I heard this catchy track when they released it as a single at the beginning of 2011, and I was hooked on the killer hooks immediately.  All of the sing-songy charms of this Brooklyn duo are on full display.  Pop rock chops like these are impressive for a debut album.  They're getting ready to release their sophomore effort next month; hopefully they stick with this schtick.
20.  Pumped Up Kicks – Foster The People
This juggernaut of a track came out of left field this year to qualify as 2011's most surprising hit.  @SpeedyMick recommended this to me over the summer, and I was in awe from it's wonderful contradictions.  Pairing laid back beats are with ultra-violent lyrics seemed like long odds for constructing a hit, making the resulting pay off that much more impressive.  By the end of 2011 this song was everywhere, to my surprise and delight.
21.  The Day Is Coming – My Morning Jacket
2011 was the year of My Morning Jacket here at The Captains Quarters.  Circuital was my favorite album of the year, their song Wonderful was my song of the year, and going to their show in Chicago for a Bachelor Weekend back in July was my concert of the year.  Narrowing down the rest of their wonderful 6th album to just one more track took me months, but I finally ended up with The Day Is Coming.  This track had the short and sweet sound that I tend to go with for Modern Rock.  But I highly encourage you to check out the rest of the album; it's amazing from beginning to end.
22.  Flying Overseas – Theophilus London
Theophilus London came out of nowhere to romance me with his Hipster Hip-Hop in 2011.  He is way too cool for the new school, and yet his music is so immediate and engaging.  Rapping about international travel while Beyonce's little sister sings the chorus seems like stealing a play from Tricky's playbook, but London pulls it off seamlessly.  We need more rappers like him dammit!
And with that we are finished with Disc 1.  Thanks for rocking and dancing with me!
Ciao,
The Captain
With most of the rocking and dancing out of the way, time to bring on the mellow and the moody.  As is typical, Disc 2 goes for the softer side of Modern Rock.  Here's the complete track listing, followed by a Side 1 review.
1.  Options – Gomez
Gomez is a band that I used to love around the turn of the century.  But they haven't had a decent song since my first Modern Rock discs back in 2002 when I included Detroit Swing 66.  In the nine years since, they've been turning out the same kind of Alternative Adult Contemporary that has doomed another of my favorite bands from that era, Wilco.  And where both bands tried to break away from Easy Listening in 2011, Gomez was much more successful.  And all it took was incorporating some of 2011 MVP instrument, the saxophone.  Good call!
2.  Don't Play No Game That I Can't Win – Beastie Boys
The Beastie Boys' return to Hip-Hop after a seven year absence was not nearly as triumphant as I would have hoped for from one of my favorites.  Their straight Hip-Hop tracks from their 8th album sounded a bit out of touch.  But this Jamaican Dance Hall throwback seemed to fit their style perfectly.  While Santigold deserves most of the credit for the tracks' vocals, the laid back grooves were the real star.  The Boys are much better musicians now than they are wordsmiths and it makes this track a real standout.
3.  King Of Diamonds – Motopony
One of my favorite parts of creating Modern Rock discs is the feedback I get from the listeners. (HINT.)  This year I've probably gotten the most feedback about this quirky little gem.  Which is funny, because when people ask about the band I have very little to say.  Motopony purposely keeps a low profile, so there is next to no information about the band or its members.  But when you make a song that is this memorable and relatable, not much else matters.  How is this song not in a marketing campaign for Las Vegas?  It's perfect!
4.  Sophia – Laura Marling
It's still surprising that one of my Top 5 albums of the 2011 came from a British Folk Singer.  But Laura Marling's beautiful, haunting album A Creature I Don't Know seems tailor-made for a gentleman with my sensibilities.  The whole album is a pleasant surprise and features my favorite song from 2011 that didn't make it on to Modern Rock.  Rolling Stone was in love with her in 2011, and it's easy to see why.  Her knack for slow burning acoustic rock is a real treat, and she's doing it at her best here on this track.
5.  Simple Girl – Dale Earnhardt Jr. Jr.
A quirky love song from a band with a funny name is a sure fire way for a band to make it on Modern Rock.  Sometimes it's just that simple.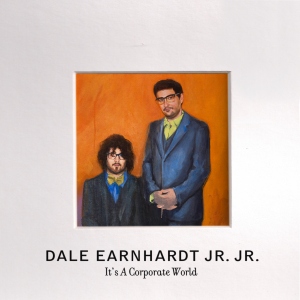 6.  What You Were – The Drums
Despite my best efforts, I continue to enjoy the Pretty Boy Surf Rock stylings of The Drums.  In 2010 they hooked me with some catchy whistling, this year they employed some well placed saxophone to reel me back.  Damn you sax!
7.  Why Even Try – Theophilus London
Like I said on Disc 1, Theophilus London has this Hipster Hip-Hop thing down to a science –  Rap about a universal topic over a catchy chorus from a female singer.  This time the a song is about breaking up and the siren is Sara from Tegan and Sara.  What struck me about this song was how charming London comes off despite his obvious theft of 80s chic.  What can I say, the man's got style!
8.  Unless I'm Led – Mates Of State
The real-life couple that makes up Mates Of State are great at channeling the moodiness that comes with relationships into pop songs.  It's tricky to write a song about breaking up while still being married, but this duo manages to make it seem convincing.  An ex-girlfriend of mine thought that all of Modern Rock 2011 Disc 2 was one long ode to breaking up, but she's a lesbian so I assume all music sounds like break up ballads to her…
9.  Two Against One – Danger Mouse & Daniele Luppi
30 songs in before Jack White makes his annual appearance?  Who would have thought?  My undisputed Modern Rock MVP had a down year in 2011, with his divorce and the break up of The White Stripes.  He spent most of his artistic energy this year producing songs for other folks like Stephen Colbert and ICP.  But luckily for me Jack got recruited by Danger Mouse to sing on his problematic fake soundtrack for a fake Spaghetti Western.  Mr. White had an odd year, but I'm betting he'll be back in 2012 to once again take back the mantle of Hardest Working Man In Rock away from Dave Grohl.
10. Out Of Tune – Real Estate
Much like my personal life, I bought in late on Real Estate.  I missed them until they were included ear the top of several best of lists for 2011.  This track was the 2nd to last song I highlighted on Two For Tuesday, and I'm glad I caught it in time.
11. Staircase – Radiohead
It was a problematic year for Radiohead.  They released what I thought was their 3rd weakest album with a thud back in February.  For a band used to high praises, there wasn't much to go around in 2011.  I was thinking they might get there first pass from Modern Rock before they released this wonderfully bass driven b-side.  And while I think they're the best band still making music, I hope this isn't a bad sign for the future.
And speaking of the future, see you next time for Disc 2 Side 2.
Ciao,
The Captain
12.  Forget That Your Young – The Raveonettes
Considering that Danish Noise Rock duo The Raveonettes is mostly know for loud guitars and vocal harmonies, they're 5th studio album was a bit of a surprise.  Strangely, the new mellow synthesizer sound fit them better than I would've thought.  It made for some great songs this year, but it also made for a somewhat subdued show when I caught them at The Firebird in April.  But I have faith that this is just a brief detour.  They've made it on every odd year of the past ten Modern Rock discs at this point, and there's no reason to think that this will change in the future.  Looking forward to hearing from you in 2013!
13.  Orono Park – The Wilderness Of Manitoba
There was a lot of Granola Rock released in 2011, and most of it was way overhyped.  I thought the follow up albums by some of my past favorites like Iron and Wine, Bon Iver and Fleet Foxes were all mediocre.  This song by an unknown band was better than any track on all three of those records.  Let this serve as a wake up call you crazy Beardo guys!
14.  Lucky Now – Ryan Adams
The last song of 2 For Tuesday in 2011 was from my least favorite pretentious asshole of the past decade, Ryan Adams.  After three good albums with Whiskeytown and two good solo records, everything I've heard from him since 2001 has been terrible.  I was not expecting to give a shit about anything he releases ever again, and then I heard this sweet and soulful track.  I have no idea why he decided to drop the pretense and return to his singer-songwriter roots, but it is a return that I wholeheartedly welcome.  Let's see how long it lasts.
15.  Map Of Tasmania – Amanda Palmer
I've been a casual fan of Amanda Palmer and her work with The Dresden Dolls for a few years, especially since my sister joined Paper Dolls.  But her recent marriage to my favorite author from childhood, Neil Gaiman, has opened up a creative streak that has really impressed me as of late.  While the song's message of freedom for pubic hair is a bit silly and only redeemed by a verse from Peaches, the acoustic jam she lays down is top shelf.  And the techno remix by The Young Punx is worth checking out too.
16.  Video Games – Lana Del Rey
Who would've thought that a pretty red head with a throwback stylr could divide the indie rock community so easily.  The number of words used to build up and break down the only two songs Lana Del Ray sang in 2011 was staggering considering she has yet to release an album.  I happened to like her smoky, vintage sound on this track but lots of people disagreed with me.  And after her less than stellar performance on Saturday Night Live last weekend, the haters have been louder than ever.  But I'm still waiting to hear her debut record in 2012 to pass judgment.
17.  Oh My Heart – R.E.M.
R.E.M. picked a good year to call it quits in 2011.  Thirty years into a Hall Of Fame career found the band still producing the kind of glum yet radio friendly tracks that endeared a generation of fans.  Bringing back a mandolin heavy song like this twenty years after their masterpiece Out Of Time was a brilliant move, and will be a great way to remember the band.  Going out on a high note is always a good decision!
18.  The Last Goodbye – The Kills
This piano ballad was a unorthodox addition to one of my Top 5 Albums of 2011, but is part of what made Blood Pressures so enjoyable.  My hipster crush Alison Mosshart sings her heart out over some stunning orchestration by Jamie Hince.  I was a bit surprised that this song didn't get more attention until the band released a video two weeks ago.  Check it out here, it'll haunt you for the rest of your day.
19.  Common Burn – Mazzy Star
While I was surprised to see the reunion of Mazzy Star after going quiet for 15 years, I was even more surprised at how little time had changed them over that period.  This song captures the mellow and moody vibe they perfected in the 90s with such great success.  The only difference between then and now for Mazzy Star is that back in 1996 this would've been all over Alternative Rock Radio, and nowadays what passes for Alternative Rock Radio no longer has any interest.  Which is a perfect explanation of why it's been fifteen years since I've listened to the radio.  Thanks!
20.  Wonderful – My Morning Jacket
At this point I've said so many kind things about this song that there's not much left for me to say.  So I'll just mention that this was by far my favorite song in 2011 and leave it at that.
21.  Little Black Submarine – The Black Keys
What I Said Now.
42 songs later and we're back at where we started, with The Black Keys.  It's fitting that this is the last song, since this was the last track I picked for Modern Rock.  My college roommate Eric suggested it as I was putting the finishing touches on my discs, and I knew immediately that I needed to go back and make room for it.  An incredible song from a band that's hitting its stride at the right moment, and the perfect bookend to another great year in Modern Rock.
Thanks for sticking with me all year and my Modern Rock picks and I'll see you in February to kick off Modern Rock 2012!
Ciao,
The Captain