Archive for January 21st, 2012
With most of the rocking and dancing out of the way, time to bring on the mellow and the moody.  As is typical, Disc 2 goes for the softer side of Modern Rock.  Here's the complete track listing, followed by a Side 1 review.
1.  Options – Gomez
Gomez is a band that I used to love around the turn of the century.  But they haven't had a decent song since my first Modern Rock discs back in 2002 when I included Detroit Swing 66.  In the nine years since, they've been turning out the same kind of Alternative Adult Contemporary that has doomed another of my favorite bands from that era, Wilco.  And where both bands tried to break away from Easy Listening in 2011, Gomez was much more successful.  And all it took was incorporating some of 2011 MVP instrument, the saxophone.  Good call!
2.  Don't Play No Game That I Can't Win – Beastie Boys
The Beastie Boys' return to Hip-Hop after a seven year absence was not nearly as triumphant as I would have hoped for from one of my favorites.  Their straight Hip-Hop tracks from their 8th album sounded a bit out of touch.  But this Jamaican Dance Hall throwback seemed to fit their style perfectly.  While Santigold deserves most of the credit for the tracks' vocals, the laid back grooves were the real star.  The Boys are much better musicians now than they are wordsmiths and it makes this track a real standout.
3.  King Of Diamonds – Motopony
One of my favorite parts of creating Modern Rock discs is the feedback I get from the listeners. (HINT.)  This year I've probably gotten the most feedback about this quirky little gem.  Which is funny, because when people ask about the band I have very little to say.  Motopony purposely keeps a low profile, so there is next to no information about the band or its members.  But when you make a song that is this memorable and relatable, not much else matters.  How is this song not in a marketing campaign for Las Vegas?  It's perfect!
4.  Sophia – Laura Marling
It's still surprising that one of my Top 5 albums of the 2011 came from a British Folk Singer.  But Laura Marling's beautiful, haunting album A Creature I Don't Know seems tailor-made for a gentleman with my sensibilities.  The whole album is a pleasant surprise and features my favorite song from 2011 that didn't make it on to Modern Rock.  Rolling Stone was in love with her in 2011, and it's easy to see why.  Her knack for slow burning acoustic rock is a real treat, and she's doing it at her best here on this track.
5.  Simple Girl – Dale Earnhardt Jr. Jr.
A quirky love song from a band with a funny name is a sure fire way for a band to make it on Modern Rock.  Sometimes it's just that simple.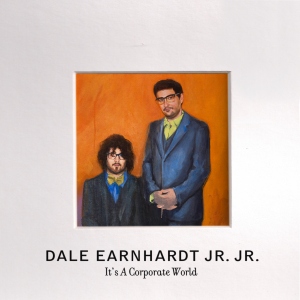 6.  What You Were – The Drums
Despite my best efforts, I continue to enjoy the Pretty Boy Surf Rock stylings of The Drums.  In 2010 they hooked me with some catchy whistling, this year they employed some well placed saxophone to reel me back.  Damn you sax!
7.  Why Even Try – Theophilus London
Like I said on Disc 1, Theophilus London has this Hipster Hip-Hop thing down to a science –  Rap about a universal topic over a catchy chorus from a female singer.  This time the a song is about breaking up and the siren is Sara from Tegan and Sara.  What struck me about this song was how charming London comes off despite his obvious theft of 80s chic.  What can I say, the man's got style!
8.  Unless I'm Led – Mates Of State
The real-life couple that makes up Mates Of State are great at channeling the moodiness that comes with relationships into pop songs.  It's tricky to write a song about breaking up while still being married, but this duo manages to make it seem convincing.  An ex-girlfriend of mine thought that all of Modern Rock 2011 Disc 2 was one long ode to breaking up, but she's a lesbian so I assume all music sounds like break up ballads to her…
9.  Two Against One – Danger Mouse & Daniele Luppi
30 songs in before Jack White makes his annual appearance?  Who would have thought?  My undisputed Modern Rock MVP had a down year in 2011, with his divorce and the break up of The White Stripes.  He spent most of his artistic energy this year producing songs for other folks like Stephen Colbert and ICP.  But luckily for me Jack got recruited by Danger Mouse to sing on his problematic fake soundtrack for a fake Spaghetti Western.  Mr. White had an odd year, but I'm betting he'll be back in 2012 to once again take back the mantle of Hardest Working Man In Rock away from Dave Grohl.
10. Out Of Tune – Real Estate
Much like my personal life, I bought in late on Real Estate.  I missed them until they were included ear the top of several best of lists for 2011.  This track was the 2nd to last song I highlighted on Two For Tuesday, and I'm glad I caught it in time.
11. Staircase – Radiohead
It was a problematic year for Radiohead.  They released what I thought was their 3rd weakest album with a thud back in February.  For a band used to high praises, there wasn't much to go around in 2011.  I was thinking they might get there first pass from Modern Rock before they released this wonderfully bass driven b-side.  And while I think they're the best band still making music, I hope this isn't a bad sign for the future.
And speaking of the future, see you next time for Disc 2 Side 2.
Ciao,
The Captain