It's the end of #SportsWeek and I saved the best for last.  The 2013 Cardinals season starts on Monday1 and I'm SO READY!  Here's my guess at what season will hold for #Friday5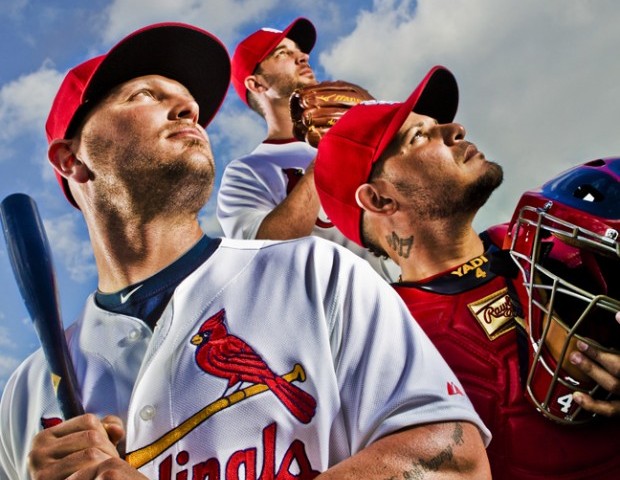 Top 5 Predictions For The Cardinals 2013 Season
1.  Injuries will almost wreck the season
As much as I love the team, I think injuries are a gigantic concern.  The Redbirds start the season with their Ace, Closer, Shortstop and Third Baseman on the DL.  And there is still significant concern for their Left Fielder, Right Fielder, First Baseman and #3 Starter.  A lot could go wrong, and I'm crossing my fingers that it doesn't.
2.  The youth movement will rescue the season
Even if injuries are a big concern, I feel confident about the ability of the young players in the minors to replace injured starters.  With so much talent in the Cardinals minor league teams, I think that a few of these young future stars will have a big impact this year.  In particular, I think that Shelby Miller will have a breakout rookie season after a slow start.
3.  Matheny's second season managing will go better the LaRussa's
In a strange coincidence, both managers went 88-74 in their first season with the Cardinals.  Both of their teams made it to the NLCS, and both lost 4-3 after taking an early 3-1 lead in the series.
In LaRussa's second season with the Cardinals, the team went 73-89 and finished in second to last place.2  I'm positive that Matheny is bound to do better than 73 wins.  Vegas odds have the Cardinals in the 85-86 wins category.  I think the number will be higher, which leads to my next prediction.
4.  The Cardinals will win the division
I read that the national sports media have the Reds winning the NL Central by 7-1 odds.  I'm not buying it.  While the Reds certainly have their strengths, they have too many questions in my mind to win the division.  I think the Cardinals will finish with 90 wins to the Reds 88 wins.  I'm also betting that the Wild Card Reds will face the Cardinals in the NLCS, and the Cardinals will beat them in 6 on their way to a fourth World Series appearance in ten years.  You read it hear first.
5. Chris Carpenter will retire after the end of the season
And Carp's retirement announcement will make me shed an actual tear.
And with that, I say goodbye to #SportsWeek
Ciao,
The Captain
1.  I know the Cardinals need to go by local schedules, but a 9:10 start for the first game of the year is a bit much.  It won't be over till midnite!
2.  But still better than the Cubs!
Some might object to Pro Wrestling talk during #SportsWeek and to them I say
I'll take the Road to Wrestlemania XXIX over the Road to the Final Four every time.  And this year's title rematch of The Rock v. John Cena looks to be another great one.  And and watching CM Punk get the honor of losing to The Undertaker should be fun.  But this year it's an undercard match that has me excited.  Jack Swagger v. Alberto Del Rio looks awesome.  And it's all thanks to Zeb Colter.
If you're not familiar, Jack Swagger took a heel turn to face off against a Latino face in Alberto Del Rio.  And Swagger is managed by racist tea-partier Zeb Colter, who is hilarious.  Finally, the xenophobe is getting a unflattering caricature in wrestling, where bad guys are bred.  Zeb did such a good job at offending the tea-party sensibility that Glenn Beck took notice.  Read all about it in this column from Grantland.  And check out these great videos.


Watching this boil over along with the stupid yet funny response videos has been the best thing about the road to Wrestlemania XXIX.  Oh yeah!
Ciao,
The Captain
I think this shortened hockey season has doomed the Blues.  After a fast start the team has really slowed down.  I was impressed with Allen's start in goal, and Tarasenko has looked promising.  But mostly, I'm not convinced that the Blues have it this year.  They need to find a pick me up fast!
Ciao,
The Captain
It's day two of #SportsWeek here at Captains Quarters, with a special #2ForTuesday look at basketball in Florida.  Because when it comes to basketball, I'm cheering for the Florida team.
You see, growing up I had very strong loyalties to specific teams in baseball, football and hockey.  But my basketball alliances were pretty open.  My favorite team was the Spurs during the David Robinson years.  And of course I liked the Bulls in the 90s.  But it took moving down to Florida for me to find teams to claim.
Basketball has been popular in Florida for a number of years; it's one of only three states with two NBA franchises.  But lately basketball has become huge in Florida.  I was living in Florida when the Gators won the Tournament and when the Heat won for the first time.  The state went wild both times, and I was happy to get swept up in the excitement.  But it wasn't until LeBron took his talents to South Beach that I was ready to pledge my allegiance.  As I mentioned during Sports Week last year, I loved LeBron's heel turn with Miami.
And if LeBron and D-Wade together was amazing to watch then, 2013 really upped the stakes.  With 27 wins-in-a-row this season and only six more till the record.  Let's go Heat!
It may be sports week, but man am I tired of hearing about March Madness!   I only sporadically care about what's going on in the NBA, so a minor league tournament of basketball gets very little attention from me.  The year, the only story of the Tournament that I enjoyed was Saint Louis University lost to Florida Gulf Coast University.
Around my town the SLU basketball season has been frequently discussed.  I could care less, as I generally mock graduates of SLU.  So hearing that the Billikins lose to an underdog from Fort Myers put a smile on my face.  SLU is where I was dumped by ex-girlfriends; Fort Myers is where I was married.
So from now on I'm cheering for the team from Florida.  Who is with me?
Ciao,
The Captain
When it comes to sports, the beginning of Spring is my second favorite time of year.  So I'm declaring this last week of March as Sports Week here at Captains Quarters!
I started out Sports Week yesterday by sitting on my ass all day!  To be fair, there was a massive snow storm that dumped a foot of snow on St. Louis so I wasn't going anywhere anyways.
Lucky for me Sunday was draft day for my Fantasy Baseball league!  I had a great draft and I think my team, Wild Turkeys, is destined to head back to the playoffs again this year.  In fact, I saw a good omen the day before the draft that convinced me Wild Turkeys were gonna win again like it was 2011.  I took this picture with my iPhone out of my car window on Saturday.
Wild Turkey!  This was seconds before that proud fuckers tried to charge my car.  So I took it as a sign that wild turkeys are going to rage this year!
Ciao,
The Captain