Archive for March 29th, 2013
It's the end of #SportsWeek and I saved the best for last.  The 2013 Cardinals season starts on Monday1 and I'm SO READY!  Here's my guess at what season will hold for #Friday5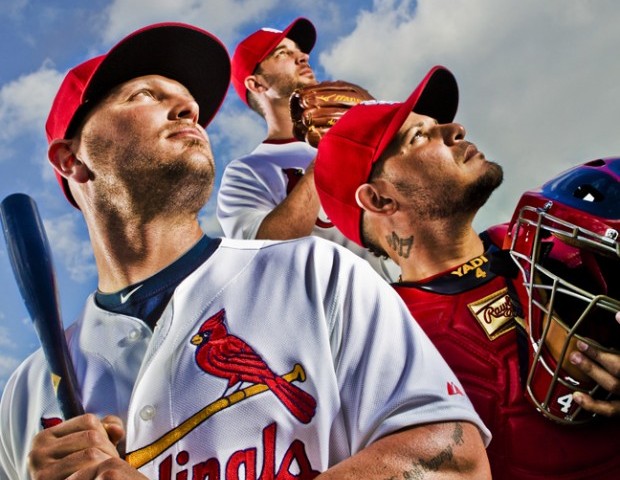 Top 5 Predictions For The Cardinals 2013 Season
1.  Injuries will almost wreck the season
As much as I love the team, I think injuries are a gigantic concern.  The Redbirds start the season with their Ace, Closer, Shortstop and Third Baseman on the DL.  And there is still significant concern for their Left Fielder, Right Fielder, First Baseman and #3 Starter.  A lot could go wrong, and I'm crossing my fingers that it doesn't.
2.  The youth movement will rescue the season
Even if injuries are a big concern, I feel confident about the ability of the young players in the minors to replace injured starters.  With so much talent in the Cardinals minor league teams, I think that a few of these young future stars will have a big impact this year.  In particular, I think that Shelby Miller will have a breakout rookie season after a slow start.
3.  Matheny's second season managing will go better the LaRussa's
In a strange coincidence, both managers went 88-74 in their first season with the Cardinals.  Both of their teams made it to the NLCS, and both lost 4-3 after taking an early 3-1 lead in the series.
In LaRussa's second season with the Cardinals, the team went 73-89 and finished in second to last place.2  I'm positive that Matheny is bound to do better than 73 wins.  Vegas odds have the Cardinals in the 85-86 wins category.  I think the number will be higher, which leads to my next prediction.
4.  The Cardinals will win the division
I read that the national sports media have the Reds winning the NL Central by 7-1 odds.  I'm not buying it.  While the Reds certainly have their strengths, they have too many questions in my mind to win the division.  I think the Cardinals will finish with 90 wins to the Reds 88 wins.  I'm also betting that the Wild Card Reds will face the Cardinals in the NLCS, and the Cardinals will beat them in 6 on their way to a fourth World Series appearance in ten years.  You read it hear first.
5. Chris Carpenter will retire after the end of the season
And Carp's retirement announcement will make me shed an actual tear.
And with that, I say goodbye to #SportsWeek
Ciao,
The Captain
1.  I know the Cardinals need to go by local schedules, but a 9:10 start for the first game of the year is a bit much.  It won't be over till midnite!
2.  But still better than the Cubs!