Archive for May 17th, 2013
Last nite was a sad occasion – the series finale of The Office.  While I would say I am a bigger fan of 30 Rock and Parks & Recreation, it was The Office that started the trifecta on Thursday nites.  And considering the terrible new line-up that NBC has proposed for Thursdays in the fall, it looks like this will be the end of an era.  So with that in mind let's say goodbye with #Friday5
Top 5 Things I Will Miss About The Office
1.  All The German/Pennsylvania Dutch Jokes
My favorite character on the show was Dwight for a number of reasons.  But mostly it was all of his weird traditional German jokes from Schrute Farms.  As a proud German descendant who grew up visiting the Pennsylvania Dutch countryside with my grandmother as a kid, I saw firsthand all of the strange traditions and customs.  I find that humor hilarious, and it's been present in the show since the beginning.  It started early with Dwight reading the story of Struwwelpeter to all the kids for Take Your Daughter To Work Day in Season 2
And kept it up all the way though until the last season with Belsnickel on the Dwight Chrismas episode.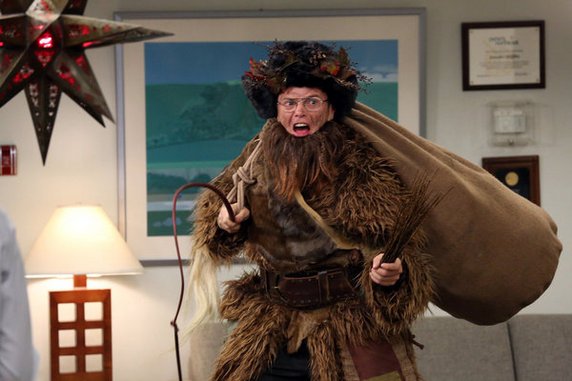 My proud German sister still thinks that is the funniest thing ever from the show.  German humor is wonderful and yet much too rare in modern comedy.  Gut gemacht!
2.  The Supporting Players
My favorite characters on the show were mostly the ones who rarely had any screen time.  I loved the strangely aggressive Jan as Michael Scott's boss and love interest.  But my all time favorite character was Todd Packer.
Packer was the perfect hyper aggressive and racist asshole, and he was played spot on by Missouri's own David Koechner.  He brought out the worst in Michael Scott and he was terribly mean to most of the rest of the cast.  Lightening in a bottle that dropped into Dunder Mifflin about once a season to stir it up.
Yesterday I tweeted about my love of David Packer as a nice way to mark the end of the show, and I received a pleasant surprise.
That Koechner is a real class act.  Long live the Pac Man!
3.  Ryan & Kelly
My least favorite part of the show was probably the Jim and Pam romance stories.  I understand why they struck a chord with so many folks, but for my money it was the Ryan and Kelly love stories that rung true.
I've known many more couple in my life that were terrible for each other, and these two played it very true to life.  The scene in the finale where they ditch Ryan's baby to run away together was wonderful.
4.  Creed the Creep
As a fan of absurdist humor I naturally enjoyed all of the Creed throwaway jokes.  The whole purpose of his character was to have a go to guy when the writers had something too weird for any of the rest of the cast to say.  Creed was a dumping grounds for bizarre and creepy things on the show, which frequently was the funniest part of the episode.
In last nite's finale Creed had the funniest story resolution of any of the cast – He's on the run from the law for smuggling endangered species and hiding out at Dunder Mifflin.  And his final shot, being led away in cuffs with a scraggly beard was the biggest laugh of the nite for me.
5.  Watching with Meg
The thing I will miss the most about The Office is watching it with Meg.  Thursday nite comedy on NBC has been a tradition with us since from the beginning.  The first season of The Office aired during the first year of our relationship, and we've watched it faithfully throughout the full nine seasons.  The story of Dunder Mifflin was as old as our story; it's sad to see that that tale come to an end.  We'll miss you Dunder Mifflin!
Ciao,
The Captain