12.  Magpie – Beth Orton
Beth Orton is back and ready for the melancholy!  This lovely little ballad was released this year without much fanfare, which is surprising considering how long she's been gone.  In my mind Beth heard that Fiona Apple was releasing an new album after a seven year break and decided to rush out an album to make her own six year break seem short by comparison.
13.  Randy Quaid – Desertshore
This track is so pretty and relaxing, which are two words I would never association with a name like Randy Quaid.  Hearing it now makes me pine for the lazy days of summer.  Sigh.
14.  Love Interruption – Jack White
I played this song so many times throughout 2012 that my wife was convinced it's been around for at least a couple of years.  Jack released this as his first solo single back in January and hasn't looked back since.  Mr. White has been the one constant through every one of my Modern Rock over the years, and he really outdid himself for the 10th anniversary.  Long live Jack White!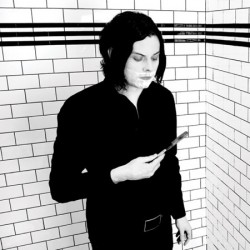 15.  Every Single Night – Fiona Apple
I'm not sure what's more surprising – the release of Fiona's fourth album after so many years of delays and rumors, or the groundswell of support it received.  Either way, Ms. Apple really took 2012 by storm.  Her rambling concert I saw this summer was a site to behold, which made picking a song for Modern Rock even more difficult.  I eventually selected the lead single for its haunting tones and sparse arrangement, but so many other songs were just as worthy of inclusion.
16.  All Your Gold – Bat For Lashes
This song is the first of several in what was a clear trend with the female artists this year: one hit on an album full of misses.  How can one song be so wonderful when it's surrounded by so many duds?  In the case of singer/songwriter Natasha Khan, she's only good when she sticks to the Kate Bush playbook like she does here on All Your Gold.
17.  Serpents – Sharon Van Etten
Probably the best example of the diamond in the rough in 2012 was Sharon Van Etten.  Serpents is an amazing mix of swirling guitars and circular melodies that made me play it on repeat, and yet the rest of her album is borderline unlistenable.  How does this happen?
18.  All The Rowboats – Regina Spektor
From Now
Different artist, same problem.  In fact I was so disappointed with Regina's latest album that I never really gave this track a chance.  At the end of the year I was trying to remember if there was a song this year that had the word Captain anywhere in the lyrics, when I remembered this track.  After giving it another listen I realized I had lumped a great song in with its mediocre album mates.  Row free little song!
19.  You Lost Me – Sleigh Bells
From Now
Apparently I'm one of the few people to figure out the slower=better formula for Sleigh Bells.  I wanted to put You Lost Me on #2ForTuesday all year, but I couldn't find a website that had it available for listening.  Both of their tracks on Modern Rock were apparently too deep of cuts.  Damn you internet!
20.  Disparate Youth – Santigold
Santigold has done so many wonderful collaborations over the past few years that I was eagerly anticipating her new album.  Once again, another major disappoint but for this one track.  Damn what an amazing song she has here; dark yet uplifting.
21.  Genesis – Grimes
The final song on Modern Rock just happens to be my favorite song of 2012.  Singer/songwriter Claire Boucher got a lot more attention for the dark personal undertones that menace throughout Oblivion.  But it's the hopeful reverberations and wistful vocals in Genesis that really spoke to me.  This song consistently brought a smile to my face like few songs have before.  It's amazing that so much buoyancy could spring from a woman and her synthesizer.  Absolute perfection.