Last nite was a sad occasion – the series finale of The Office.  While I would say I am a bigger fan of 30 Rock and Parks & Recreation, it was The Office that started the trifecta on Thursday nites.  And considering the terrible new line-up that NBC has proposed for Thursdays in the fall, it looks like this will be the end of an era.  So with that in mind let's say goodbye with #Friday5
Top 5 Things I Will Miss About The Office
1.  All The German/Pennsylvania Dutch Jokes
My favorite character on the show was Dwight for a number of reasons.  But mostly it was all of his weird traditional German jokes from Schrute Farms.  As a proud German descendant who grew up visiting the Pennsylvania Dutch countryside with my grandmother as a kid, I saw firsthand all of the strange traditions and customs.  I find that humor hilarious, and it's been present in the show since the beginning.  It started early with Dwight reading the story of Struwwelpeter to all the kids for Take Your Daughter To Work Day in Season 2
And kept it up all the way though until the last season with Belsnickel on the Dwight Chrismas episode.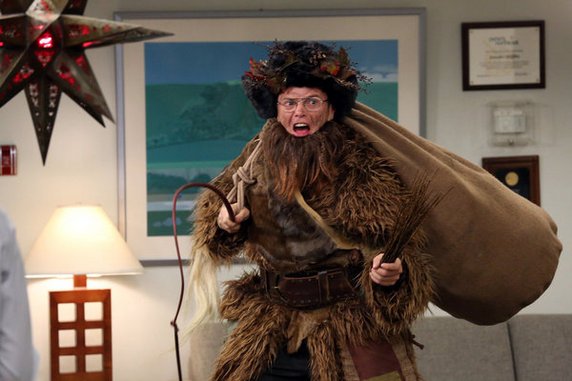 My proud German sister still thinks that is the funniest thing ever from the show.  German humor is wonderful and yet much too rare in modern comedy.  Gut gemacht!
2.  The Supporting Players
My favorite characters on the show were mostly the ones who rarely had any screen time.  I loved the strangely aggressive Jan as Michael Scott's boss and love interest.  But my all time favorite character was Todd Packer.
Packer was the perfect hyper aggressive and racist asshole, and he was played spot on by Missouri's own David Koechner.  He brought out the worst in Michael Scott and he was terribly mean to most of the rest of the cast.  Lightening in a bottle that dropped into Dunder Mifflin about once a season to stir it up.
Yesterday I tweeted about my love of David Packer as a nice way to mark the end of the show, and I received a pleasant surprise.
That Koechner is a real class act.  Long live the Pac Man!
3.  Ryan & Kelly
My least favorite part of the show was probably the Jim and Pam romance stories.  I understand why they struck a chord with so many folks, but for my money it was the Ryan and Kelly love stories that rung true.
I've known many more couple in my life that were terrible for each other, and these two played it very true to life.  The scene in the finale where they ditch Ryan's baby to run away together was wonderful.
4.  Creed the Creep
As a fan of absurdist humor I naturally enjoyed all of the Creed throwaway jokes.  The whole purpose of his character was to have a go to guy when the writers had something too weird for any of the rest of the cast to say.  Creed was a dumping grounds for bizarre and creepy things on the show, which frequently was the funniest part of the episode.
In last nite's finale Creed had the funniest story resolution of any of the cast – He's on the run from the law for smuggling endangered species and hiding out at Dunder Mifflin.  And his final shot, being led away in cuffs with a scraggly beard was the biggest laugh of the nite for me.
5.  Watching with Meg
The thing I will miss the most about The Office is watching it with Meg.  Thursday nite comedy on NBC has been a tradition with us since from the beginning.  The first season of The Office aired during the first year of our relationship, and we've watched it faithfully throughout the full nine seasons.  The story of Dunder Mifflin was as old as our story; it's sad to see that that tale come to an end.  We'll miss you Dunder Mifflin!
Ciao,
The Captain
I would so play this game.  Someone make this real!
Ciao,
The Captain
Last week for #WaybackWednesday I continued with my Year On The Road trip and the preparation for my sister's graduation.  This week it's ceremony time!  Let's start with a picture of my sister and her friend Katie at the Southwest Missouri State graduation ceremony on May 16, 2003.
My family all made the trip down to Springfield to help Cathie celebrate and we made quite a weekend of it.  Here we are with my kid brothers and my cousins Chrissy and Jimmy.
You can even see my beaming mother and late grandmother in the background.  It was a big day for the whole family, no matter how much trivializing I did with her degree.
The ceremony was fun, but the graduation party at my sister's house was what I remember most.  My dad sprung for a keg of beer from Brown Derby and my sister's friends managed to float that bad-boy before the nite was over.  Not surprising, especially considering how much was used for drinking games.  Her friends were quite the flip cup competitors, which culminated in an epic 6 man race between the men & women.  Here's the victorious women's team
And a stunned men's team after the loss
We also had a viewing of the graduation video that I put together, which I am still working on putting on YouTube.  Hopefully I can put it up by the end of the week.
The other thing I remember about this weekend was my graduation gift to my sister.  I wrote a check to her landlord for her last month's rent on the condition that Cathie move back to St. Louis by the end of June.  I saw firsthand that Springfield became a trap to those who chose to stay after graduating from college.  I got quite a bit of pushback from Cathie on this, as I know she was not ready to leave her college life.  But my insistence won out and she moved back to St. Louis that summer.
Cathie had a hard time adjusting real life after college, but she eventually figured out how to spread her wings.  Now it's ten years after and she has a great job and a wedding to plan.  Looking back a decade later I'm glad she learned how to fly away.
Ciao,
The Captain
Tonite was the last episode of The Mindy Project and my hopes were high for more scenes with my buddy @MortBurke
The result was a mixed bag on #2ForTuesday as Parker the Intern made the background in separate scenes.
But had zero lines in the episode.  However, I think it may be the start of something bigger.  I noticed that in both scenes Parker seems to be flirting with Betsy, as played by fellow LA Comic @zoeannejarman
I think Parker and Betsy should date next season!  This could totally work!
Granted, that ruins the whole premise of my Mort & Mindy sitcom.  But I'm starting to doubt that project will ever gain traction.  So starting next season let's start a #ParkerandBetsy campaign.  Who is with me!?
Ciao,
The Captain
A while back Meg had a great idea for Mother's Day and bought tickets for the Cardinals game on that Sunday.  It was such a good idea that I stole it and did the same for my mother.  It worked out well as the four of had brunch at the house yesterday before heading downtown for the game.  We met up with my sister, as well as my man D with his mom and sister.  Most of us were up in the nosebleeds while Meg and her mom were glamming it up on the lower level.
As you can see, it was ladies floppy hat day at the game.  It was a good look for almost everyone in attendance except yours truly.
The game itself was a real dud, as the Cardinals were losing the whole time and didn't get their first hit until after the 7th inning.  I was up in the nosebleeds in the 8th inning debating on leaving early when I got this picture in a text from Meg.
Holy smokes! Meg caught a foul ball!
Except not really.  In reality she was texting with me and didn't notice the foul pop-up until it hit her in the leg.  Ha!  I went back to check the game on my DVR to check if we could see the hit, but it was off camera.  So here is a dramatic reenactment of the hit.
Ha! It was a big ending to a great Mothers Day at the ballpark. I think we may have a new tradition!
Ciao,
The Captain